Juara Turtle Project: a Conservation and Research effort..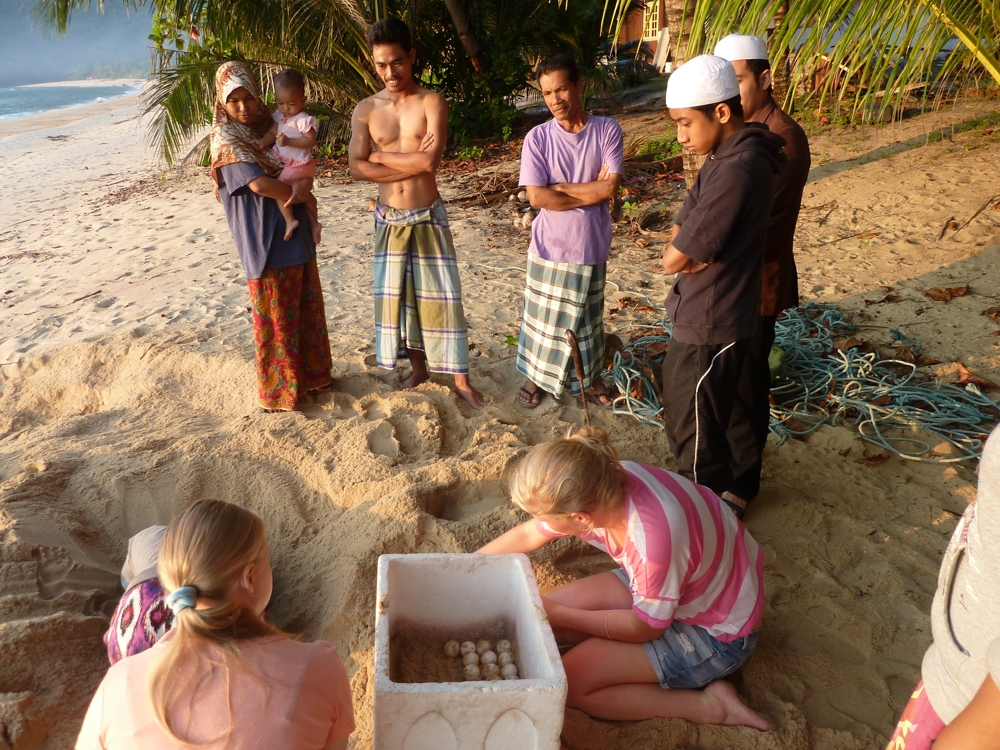 … a people project
"People are the cause for most environmental issues these days; conveniently people are also the solution for resolving these imbalances."
– Prof. Jo Turtle
Mission:
We aim to develop highly considerate practices regarding Sea Turtles and environment in and around Kg Juara and Tioman Island, while also creating a research database of the natural life on and around Tioman Island for use as reference and as support for protection of Tioman's ecosystems.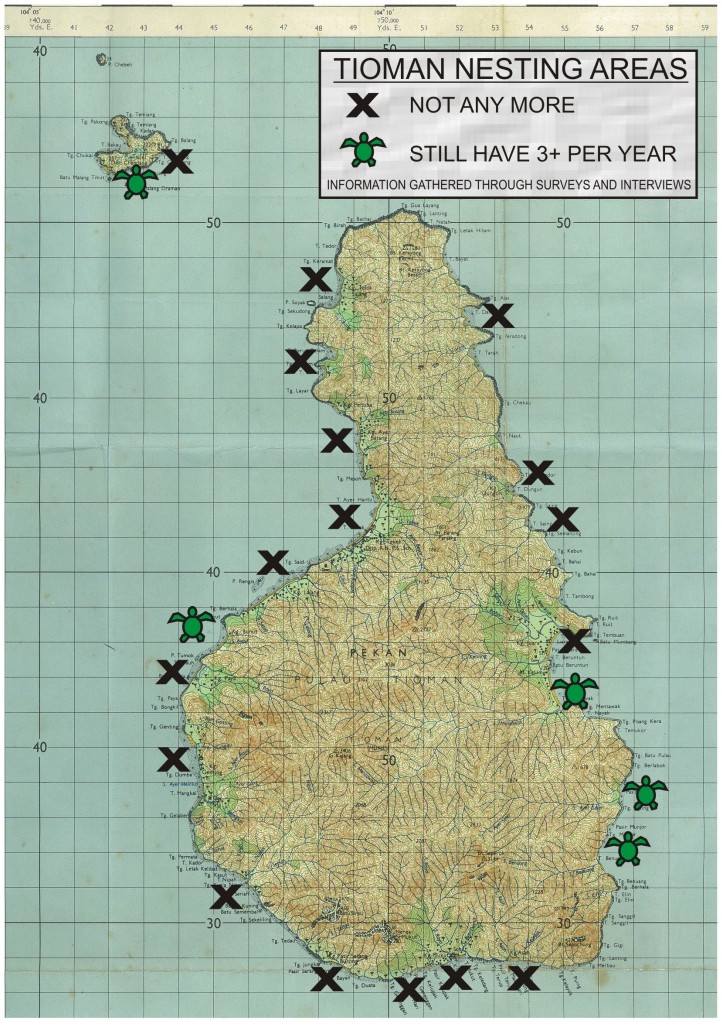 Threats and Issues for Sea Turtles:
1) Large-net Fishing
For decades the fishing industry has been scouring the seas with large drag nets.  The abundant sea life around the Tioman archipelago has made it a targeted area.  These consistent nets have quickly captured and for the most part accidentally killed a large amount of the sea turtle population.  Even since Tioman has become a Marine Park, fishing boats still circle the boundary inadvertently catching many migrating or returning sea turtles.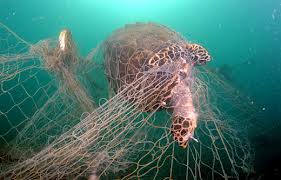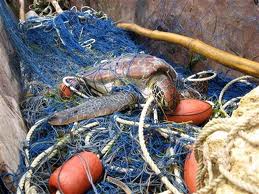 2) Egg Collection
Egg Collection is an old tradition and practice in many countries around the world.  In the past century, the increase in transportation has driven the exploitation and harvest of nesting beaches.  The effects of egg collection in the past have become increasingly apparent as no new generations of nesting turtles exist now.  Egg collection is still legal in Malaysia, however in Juara there is fair respect for the conservation efforts.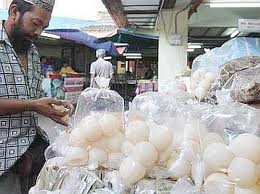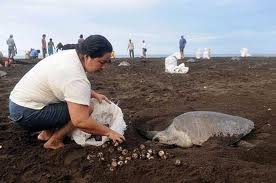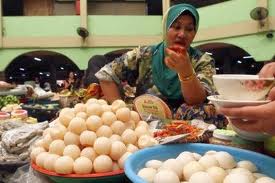 3) Effects of development
Beach development creates more lighting, noise, and rubbish.  Wash out effects also bring pollutants and waste into the sea, affecting marine habitats.  Lighting on beaches can dramatically limit the amount of approaching mother turtles, and affects baby turtles by disorienting them as they try to find the sea.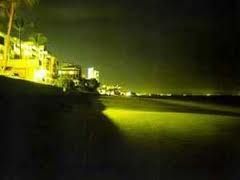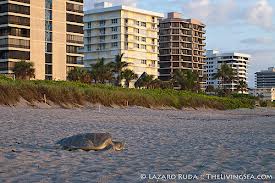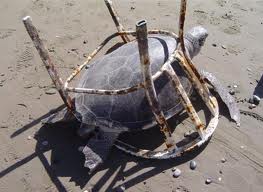 4) Other Threats
Other threats for sea turtles include eating or being tangled in rubbish, global warming, speed boats, consumption of turtle meat, turtle rides, over fishing, and sale of turtle shell to name a few.  There are many resources to look up what threats may exist for any specific location.  In general, try and give turtle space to live their live, on an individual basis and globally.
What we do to try and help:
1) Awareness Education & Outreach
Our visitors center attracts and educates visitors, as do our involvement programs with volunteers and students.  We continually  inform local leaders and government about protecting sea turtles for environmental and economic reasons.  The main points are: Protection of the nests and eggs, Habitat protection, Beach lighting management, and Enforcement of regulations.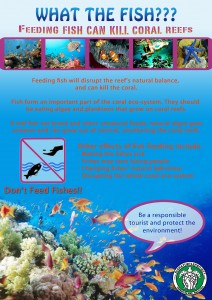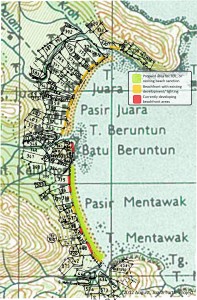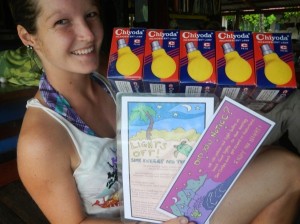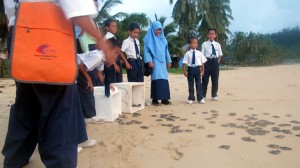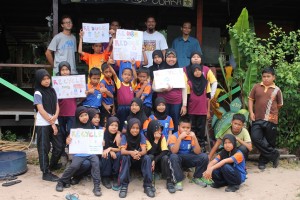 Outreach within the local community is clearly valuable for education about sea turtles, but also for economic reasons.  For the effort to succeed we must show that protecting the environment is not only good for the turtles, but also helps to generate sustainable long-term income for the community.
2)Nest Protection
Currently we are forced to collecting nests from their natural locations and protecting them in a hatchery compound for incubation period, upon their hatching we let them go immediately.  The goal for all sea turtle conservation is to eventually stop using hatcheries, however without protection now many nests would be poached and sold for profits.
Part of our hatchery effort involves a nest sponsorship program, where visitors can sponsor a nest.  This direct transaction between the eggs and making money for protection, will hopefully be evident to Tioman residents as a viable alternative to sale for consumption.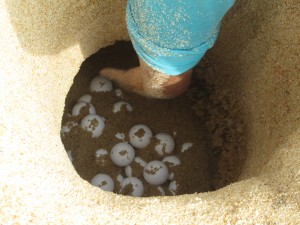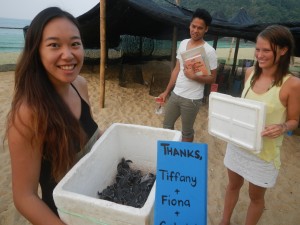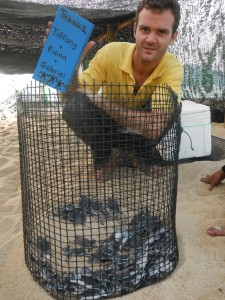 3)Research and Data Collection
Data is collected on the nesting turtles, the hatchery conditions and success rates, species comparisons, nesting beaches around Tioman and more.  The data collected helps us develop better methods and understandings, also some of the data is used in schools like UWCSEA or passed onto international turtle organizations like SWOT.
Data is now also being collected from coral reefs via the Reef Check Malaysia methods.  Terrestrial surveys are also under way as are avian studies (bird migrations).  All data collected can serve as proof for conservation, and the value of Tioman not only as a tourism beachfront location.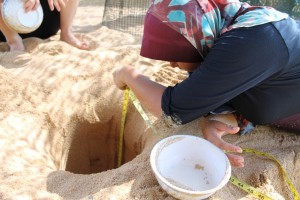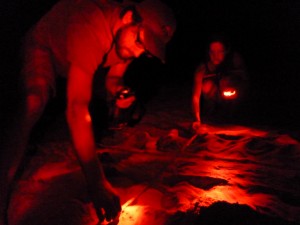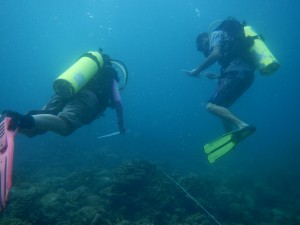 Listing of JTP's specific efforts to try and help can be found in our 2012 Summary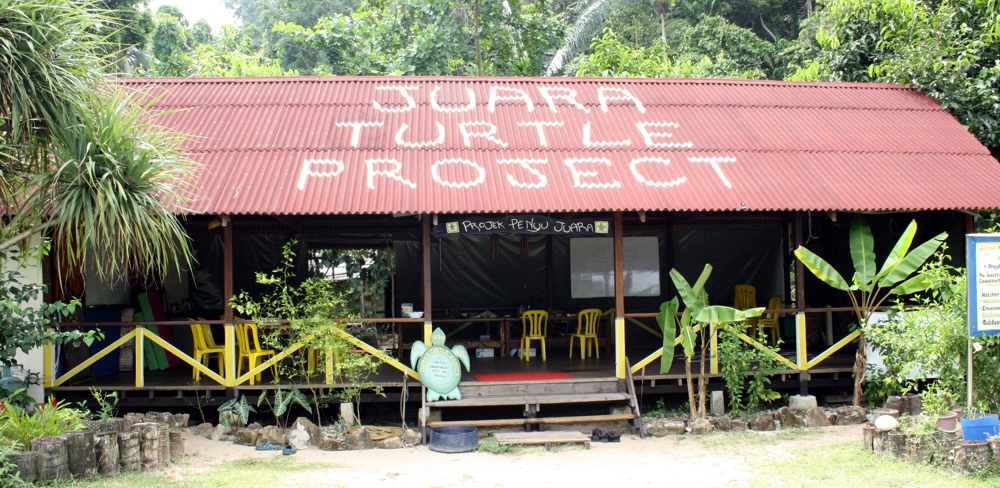 This is our main building, built in 2008 it is used as a visitors center, common and dining area for volunteers and groups. A kitchen is attached on the left side, and accommodations are a separate building set behind.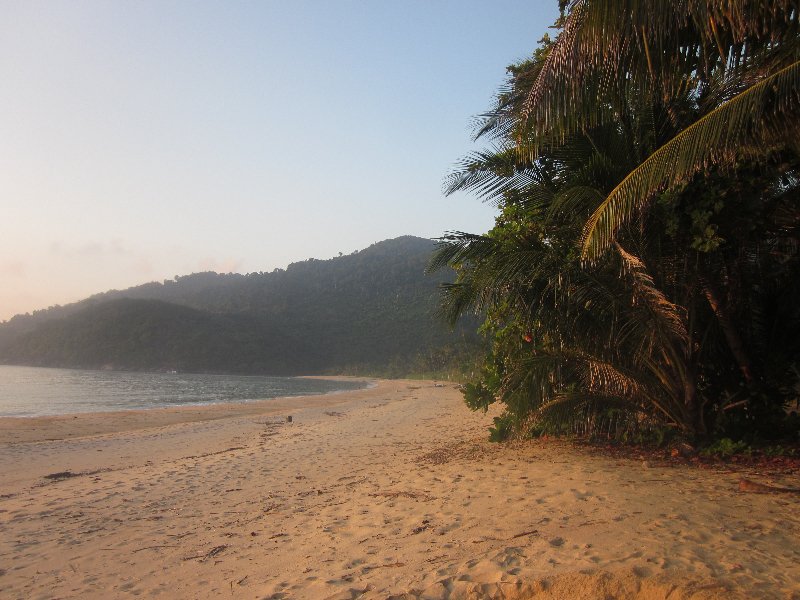 This is Mentawak Beach looking South. The North end has more development now and no more nesting turtles. JTP is located almost to the South end of this beach. Mostly Green but also some Hawksbill turtles nest here from March until October.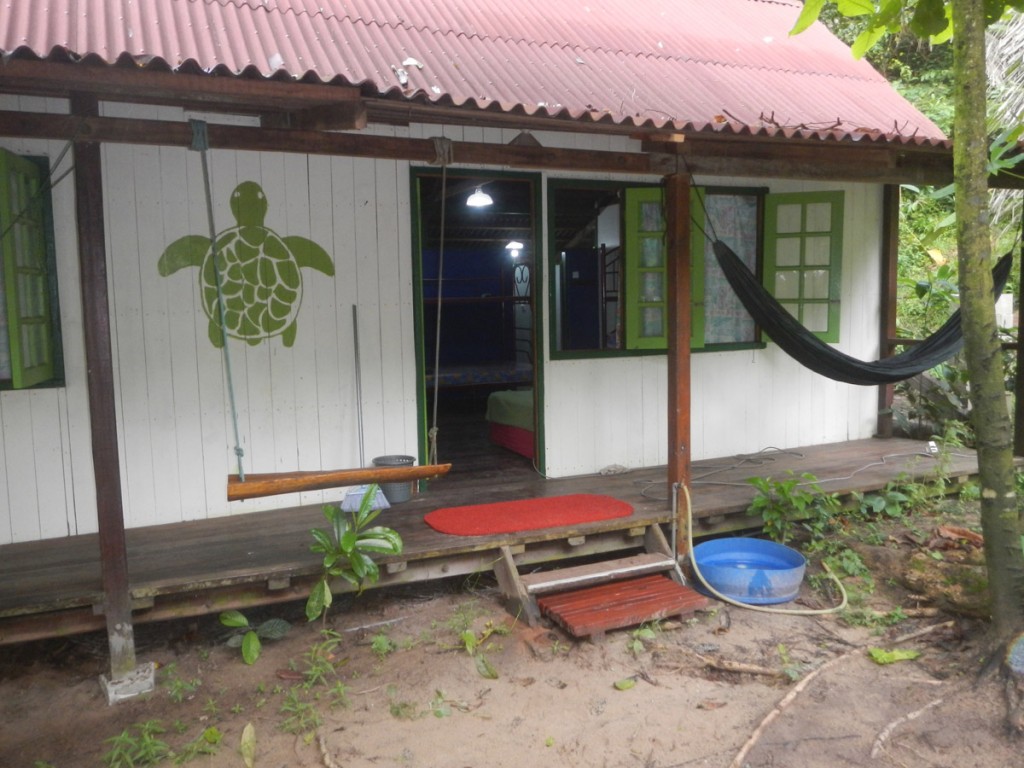 Also built in 2008, this is one of the three attached accommodation rooms for volunteers or students.  Each room can sleep 7 people and has 2 bathrooms in each.  Breakfast, lunch, internet, other amenities and recreation equipment are all provided for volunteers included in the per night cost.  For more info on groups and volunteering please see the specific pages.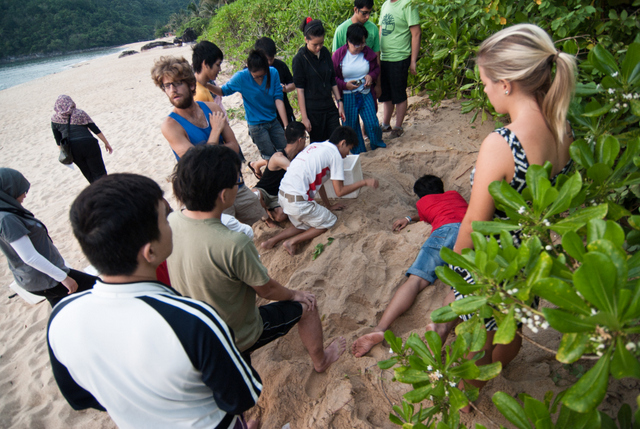 Volunteer and student activities focus on helping the effort, involvement with the project's activities, learning more about the turtles and ecosystem, also enjoying the surrounding nature.
A Brief History:
Juara Turtle Project started as a Government (Fisheries Department Malaysia, FDM) operated hatchery in 2001.  FDM has and does operate many hatcheries around Malaysia since the 1970's.  The Juara hatchery only had a 5 year operation contract, so in 2006 as it was closing down, a man John Amos adopted it into his Riverview & Lagoon chalet locations.  Immediately getting the support from United World College SEA in Singapore.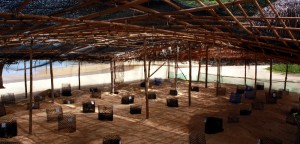 In 2008 after getting some involvement from the Royal Family of Pahang State via their conservation initiative TAT, a new centre for the turtle project was conceived and constructed by John Amos, Charles Fisher, and Tom Wuebbens.  This new center was meant to help focus and progress the conservation effort, It consisted of a large communal area, three joined rooms, a tank for JO, and an outdoor visitors area.
Since 2009 the project has been involving volunteers and student groups.  Two additional staff rooms were built in 2012, along with a finished lab space in 2013.  Two more rooms are being built for 2014 to accommodate teachers, group staff, and independent researchers.  Also the development of our gardening.
Since 2006 we have been striving to improve our methods and techniques. Many of these improvements are for hatchery operation and community relations. Operating staff now consists of Operations Manager: Nur Izzati Roslan and Assistant Manger: Daniel Yap, Community Officer: Nurasfarlela Mohd Basir with the addition of seasonal staffing, long term volunteers, and University student interns, different personalities to handle different aspects of the project.
Get Involved. Get in touch. Email us to sign up or to learn more about participating
External Links:
blogspot.sg/2010 -new-years-at-juara-turtle
architectureoftravel.wordpress.com/2012  juara-turtle-project