About
Over the last 10 years there has been a significant increase in the number of tourists on Tioman Island due the island's unique geography, beautiful beaches and rich marine environment. As a consequence, it is important for the future generations of this island to preserve its natural resources and its environmental richness.
The Juara Turtle Project (JTP) recognizes the importance of that preservation and that the island, with Juara in particular, are well maintained, it is important to highlight that the future of this village will depend on its inhabitants. They will have to decide if they will want to maintain a pristine island with its beautiful jungles, its stunning waters and its clean rivers and waterfalls.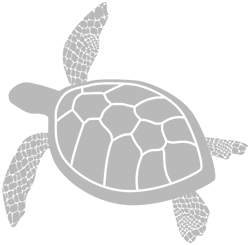 What We Do
Waste Management and recycling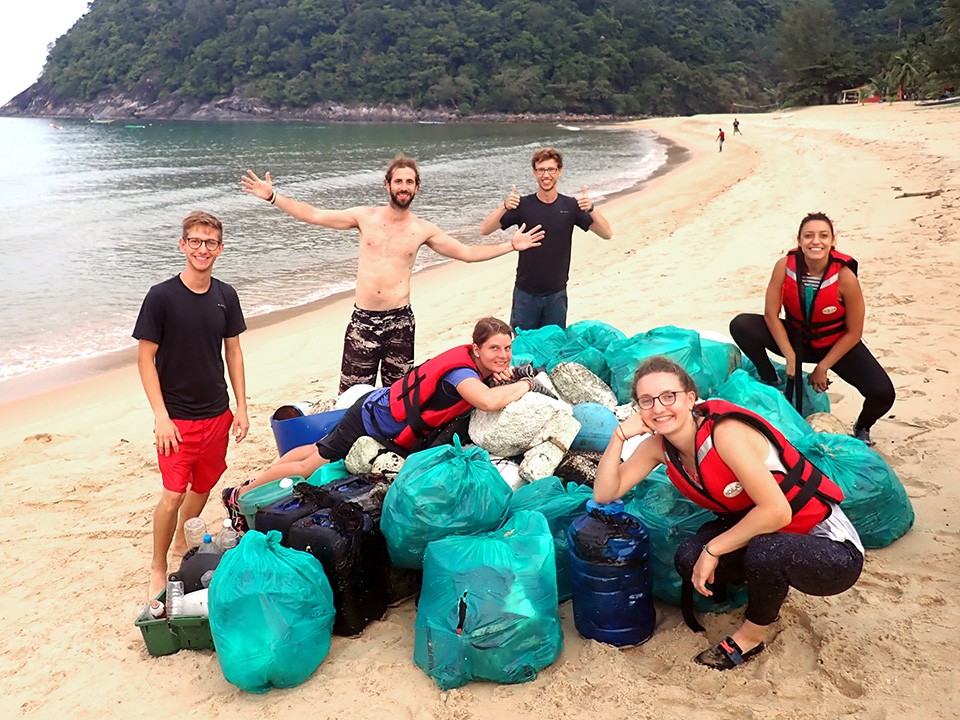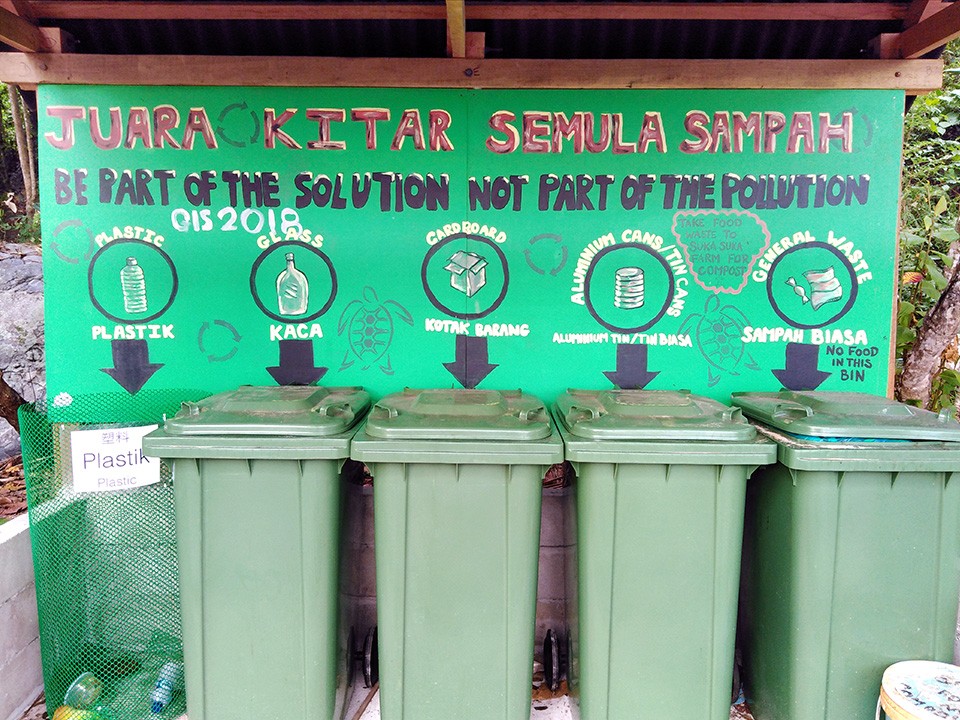 In 2013, the Juara Turtle Project started collecting plastic bottles and tin cans from a few resorts in Juara. The idea was to help ReefCheck Malaysia with the recycling program they developed to keep Tioman Island clean. As all we know plastic debris, and trash in general, is one of the biggest threats affecting sea turtles. Thus, JTP is concern of the necessity to keep the ocean, beaches and village as clean as possible.
From 2013 to 2017, JTP was focused on the collection of plastic bottles and tin cans from all those resorts/establishments involved with the program. Since then, the number of resorts interested in collaborate with the recycling program has increased. Actually, there are more than 20 resorts recycling their own waste. JTP collects plastic bottles and cans from these resorts and process them in a Waste Management Station before they are sent back to mainland.
Little Planet is helping building multiple Recycling Stations along the village to promote and facilitate the recycling within the local community. Each station has several containers where plastic bottles, tin cans, cardboard, glass and general waste is separated.
Volunteers are needed to help collecting the waste from the different establishments as well as to sort it at the Waste Management Station. Volunteers also will be involved in providing information about the importance of recycling on this island and the need of start reducing and refusing plastics.
Environmental Education Program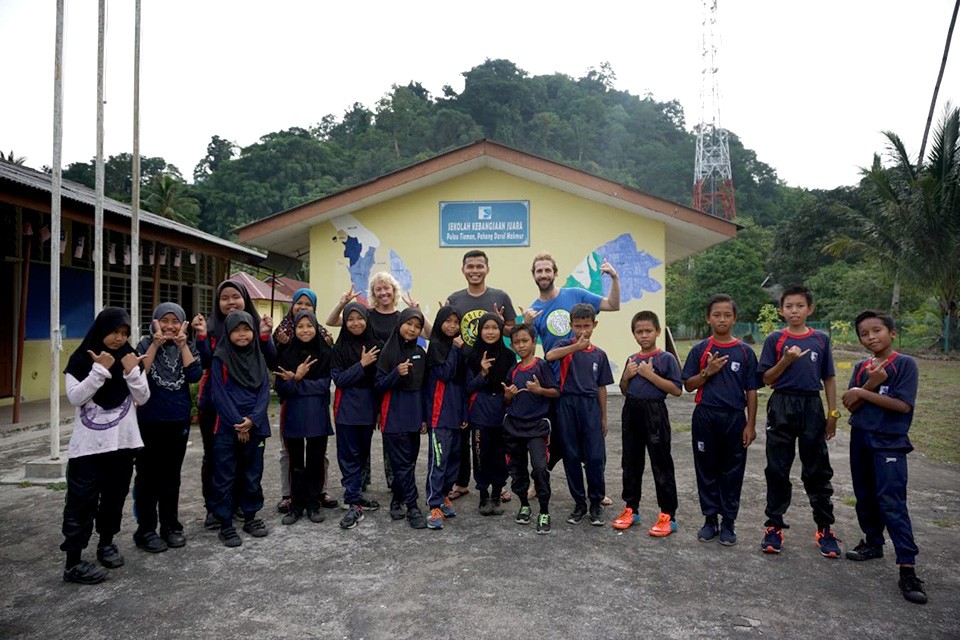 The program with Juara Primary School started in 2018 as a platform to raise awareness in the students and to supplement knowledge related to different local environmental issues, such as plastic pollution, animal extinction and waste management. Our aim is to enhance awareness of the beauty and uniqueness of this island and its diversity of ecosystems as they will be permanently lost without preservation.
A JTP staff goes to the school to initiate different activities for a maximum of two hours weekly. The activities vary, from presentations to games or outdoor activities such as snorkeling or beach clean-ups.
We emphasize a different topic each month, such as Conservation, Pollution, Animals of Malaysia, Sea Turtles, Coral Reefs, Plants and Forest from Malaysia with a different accompanying activity related to the monthly topic. The presentations and the activities are managed by the JTP staff, in both in English or in Malay.
Juara plastic-free Initiative
Worldwide, plastic production has increased 200-fold over the last 50 years, being produced nowadays more than 300 million metric tons every year. As a consequence, 8 million metric tons of plastic debris are estimated to end up in the world´s oceans every year. Malaysia is rated as one of the most polluted countries after. After China banned waste imports, Malaysia has taken up the slack with worrying consequences, a Greenpeace investigation has found. Much of Malaysia's imported trash—most of which comes from the US, UK and Japan—is not recycled, but dumped or burned.
Here in Tioman Island, most of the waste is burnt in an incinerator or locally within the properties and just a small percentage is sent out of the island to be recycled. Furthermore, there is a big percentage of waste that ends up in Tioman´s rivers, beaches and ocean. The recycling program manages only less the 10% of the total waste we import from mainland, meaning more than 90% of all products imported remain in the island.
In order to make the difference in Tioman and Malaysia, Juara Turtle Project wants to propose alternatives to disposable plastics in Juara, such as plastic bags, plastic straws, plastic bottles, food containers, cutlery or plates & cups. These alternatives include reusable stainless steel straws, compostable food containers (to take food away) and reusable bags, and refillable water stations. As we all live in an island, it is essential to know the limitations we are facing to manage plastic waste.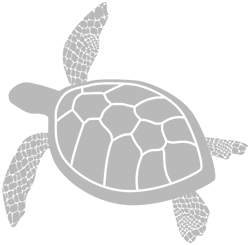 Objectives
The aim is to reduce the imports of plastic from mainland and its accumulation in Tioman´s ecosystems by providing other alternatives for local villagers, restaurants and big resorts. Reducing plastic consumption will make Juara as one of the top-destinations in Tioman and in Malaysia, as it´s become more eco-friendly.
Our Initiatives
Juara Turtle Project proposes other alternatives to plastic that can be adopted by the different establishments in order to reduce the plastic consumption in Juara. JTP is willing to provide different items to local restaurants, such as reusable straws or reusable bags. Big resorts may be able to provide themselves. The environmental friendly alternatives we suggest are:
Stainless Steel Straws (Metal Straws)
Plastic straws affect marine life in a way the straws can be swallowed or get stucked within the digestive tract. A 5-year old video showed an Olive Ridley sea turtle with a straw stucked in one of its nostrils.
Moreover, plastic straws have been accumulated in the ocean from many years, representing nowadays between 1-2% of the total plastic debris. Thus, JTP suggest stainless steel straws or bamboo straws as a long-term alternative. For take-away drinks, paper straws can be provided. They are same cost-effective as plastic straws.
Metal straws can be washed, as plates and cutlery are, and reuse them in every meal. This helps saving money for the establishment, as it is not necessary to buy new plastic straws every time, but more important it helps our environment as metal straws are not dumped away. Several establishments in Juara, and Tioman, have already implemented this change.
Reusable Bags
Plastic bags are one of the most common single-use plastic found on beaches and in the ocean. They are used only for a few minutes to transport the items we buy in the shop and after 1 or 2 use they need to be disposed. However, plastic bags can be mistaken for food by many marine organisms, such as sea turtles, dolphins, whales or mantas. Every year, dozens of marine animals die due to plastic bag ingestion. In fact, the most recent death was found in the Philippines and it was a juvenile whale which ingested 40 kgs of plastic bags.
To reduce the consumption of plastic bags, JTP suggest starting using reusable bags, or tote bags. Minimarkets, shops and restaurants could charge extra money to the customers for using a reusable bag and in case the customers do not return it, the establishment gets more money. If the customers return the bag, they get their money back.
Electric Water Dispenser
Plastic bottles are probably the most demanded plastic item worldwide. Every minute ONE MILLION plastic bottles are produced, and just Coca-Cola produces 200,000 bottles every minute. In Juara, tons of plastic bottles are imported every year from mainland by cargo. The most common imported beverages are water, followed by Coca-Cola and 100Plus.
Considering the plastic bottles recycled in Tioman represents less than 30% of the imports, JTP suggests installing refillable water machines to reduce the consumption of plastic bottles. Several resorts have already implemented and the results are very successful. Money can be charged for refilling tourist´s water bottles but for local people can be free.
Compostable Food Containers
Plastic food containers are also typically found on beaches and in the ocean. They are most commonly used as take-away food. But once people have finished the food, the container is thrown away.
To reduce the consumption of single-use plastic food containers, JTP suggest start using compostable take-away containers, such as food containers, cups and plates. The compostable containers can be thrown directly to a compost bin or to the normal trash bin.
Get Involved