---
Jo's Tank in Progress!
A few recent photos of Charlie and Tyler posing with Jo's new tank.  The block work is now done, "all" that remains is plastering the outside, pouring a draining floor, painting, and of course setting up the filtration systems.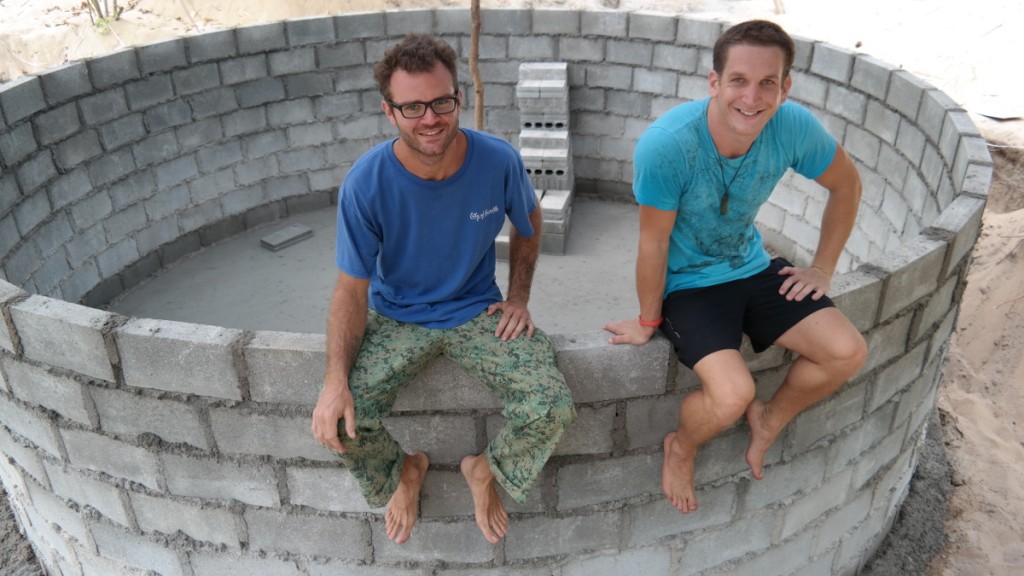 The finished tank will be just a little bit deeper than it is now, as we will soon pour a reinforced cement ring around the top.
As noted before, we have received a generous sponsorship by WaterCo for a pump and filtration system.
We have also just received sponsorship for a great interior coating for the tank, from Jotun Coatings.  Penguard HB is a coating designed for inside drinking water tanks, that's to make sure there won't be any chemicals swimming around with Jo in her new home!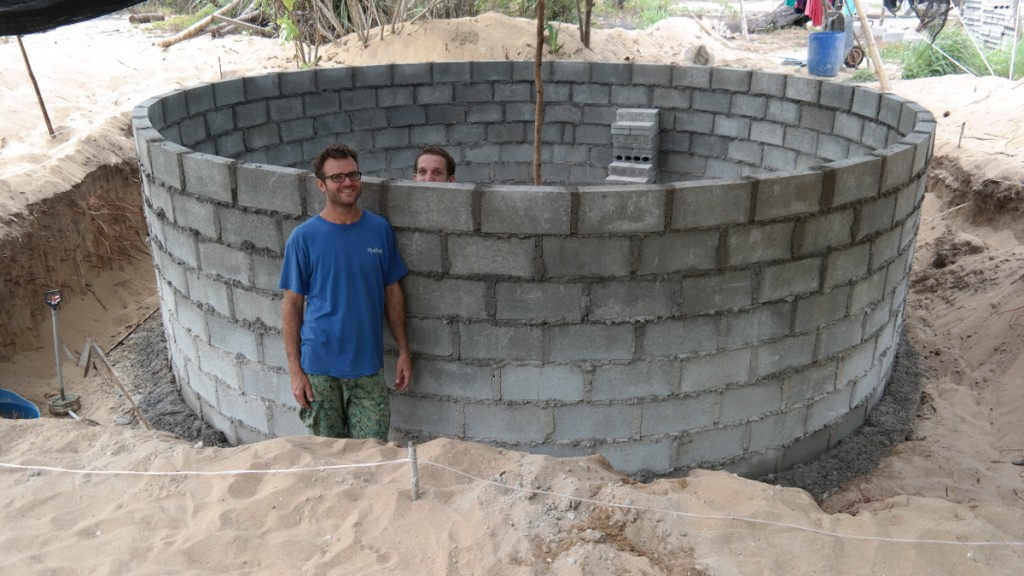 The students at UWCSEA are also hard at work with some fundraising for the tank.  Besides volunteers and staff, we hired help from some Juara boys to pour the cement base, and will soon hire a couple of Juara's finer craftsmen for plastering a smooth surface in the inside.
If you would like to help support us as well, please get in touch.  We can take donations by bank transfer or by paypal, just let us know! Cheers
---
Bicycle Bins
A few cool new bicycle baskets made by some volunteers here.  The bikes are a great way to get into town for some dinner or  a bit of snack shopping in the afternoon, pretty important to have a good basket…
---
Recent Volunteer Travel Blog
Read a nice travel blog story about by LocalizeJ about her time here at JTP.
" Many people ask if we also have little  turtles. The reason we don't is allready written above. The little  turtles are programmed to go to the light and therefor to go into the sea and to swim for up to a week to go to a saver area for them.
If we would keep them here the natural instinc will fade away. Many projects will keep them because they think that when they are bigger they can take better care for themselfs or the danger or threats are not that big anymore. We think that we should mingle as less as possible in the lives of the turtle so we release them as soon as possible."
http://jacomijns.blogspot.com/2014/03/volunteering-at-juara-turtle-project.html