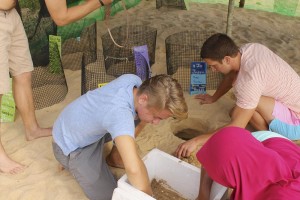 The main Turtle Season is from mid-March until the end of October each year, but there are activities and areas to help out all year-round.

We require staying a minimum of 1 week (7 nights), to provide enough time for a valuable experience (for you and us!)
However we recommended staying more than a week if you can,
And it's also great if you want to volunteer for a month or more!
Download the  JTP Volunteer Information Sheet
JTP_Additional_Information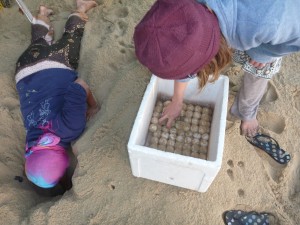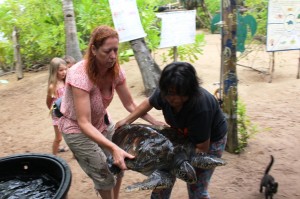 We consider the costs of involvement here to be Physical and Financial.  Look around on the internet, we cost more than most Hostels, but we also cost much less than most Conservation Volunteer programs.  By coming here we are expecting that you want to help out physically and financially.
Costs:
March – November (Turtle-Season) Cost:
RM 1000 per week (7 nights)/ per person
RM 140 per night (after first week) / per person
RM 3000 per month/ per person
December – February (Off-Season) Cost:
RM 700 per week (7 nights)/ per person
RM 80 per night (after first week) / per person
RM 2200 per month/ per person
*Off-Season volunteering program is different every year and volunteers intending to come during this period will be primarily participating in activities at the project centre and animal welfare centre. Most activities will be land based.
*Payment can be made upon arrival at the project and during orientation. We prefer to receive cash (RM), unless necessary we can discuss online bank transfers.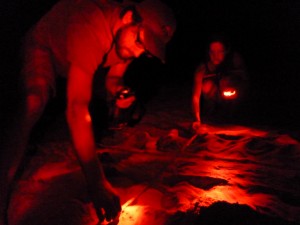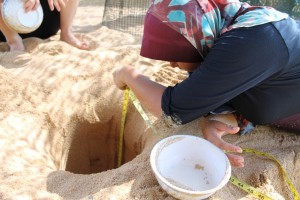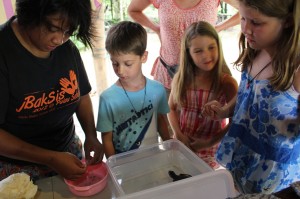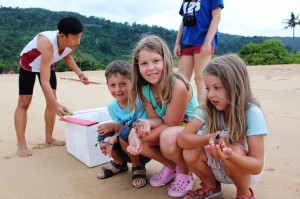 Discounts are available for families, Malaysians, and for long-term volunteers.
Discounted prices do not necessarily apply for groups due to workload, meals, and programming. Please see the Group Program page for group prices!
Your stay includes:
Your stay here includes/ does not include:
Volunteer program activities, accommodation, facilities on site, breakfast and lunch, drinks (coffee, tea), laundry machine, kitchen, plenty of work to do, internet WiFi.
Recreation equipments like kayaks, snorkelling mask, snorkel, fins, bicycle, volleyball, frisbee, board games.
Dinner is NOT included: you can either use the kitchen to cook your meal or go to village/ town and support local restaurants/ cafe/ business.
The average cost of dinner is RM10-15.
Volunteer Activities
Volunteers get involved with the project, support the staff, and can do their own activities.
A longer list of activities is on the JTP Volunteer Information Sheet
Also see our Volunteering Photo Album
Morning beach walk patrol for nesting
Morning boat patrols for nesting
Release of any hatchlings *
Re-Nesting and new found turtle nests *
Keeping JTP ship-shape and ready
Day time guiding visitors
Day time helping staff if needed
Relax & Recreation activities
Night beach walk patrol for nesting
Night monitor hatchery
Collecting new nests for protection *
Other activities depend on what is currently going on ..
Note:  (*) activities are turtle dependent.
Limits to our program
We cannot guarantee that you will see nesting turtles or hatchlings; it is out of our control. But if there is any turtle activity we will definitely get you involved with it; any nesting, hatchlings, or other events.
Accommodations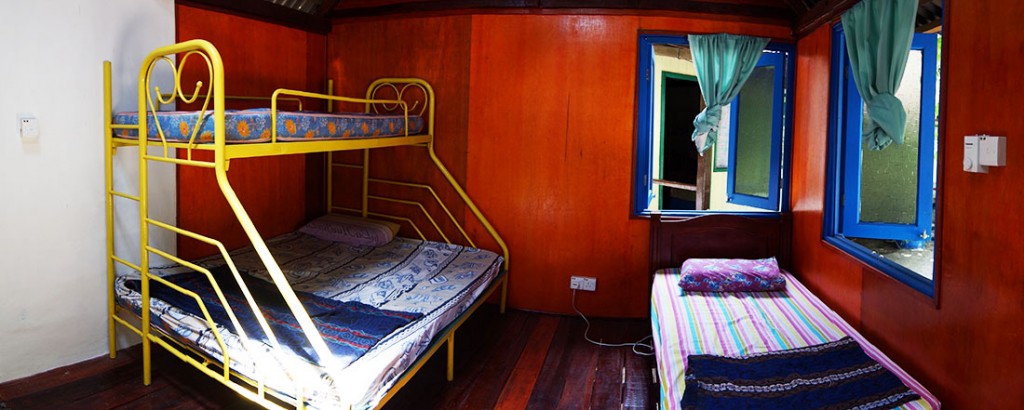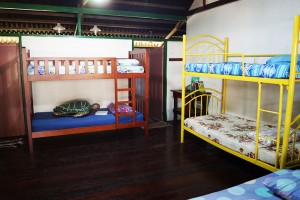 Rooms:
The dormitory style room has 7 single beds with two western-style bathrooms each. It can accommodates up to 7 people. Unless necessary or for group programs, the dormitory rooms will only have a maximum of 4 volunteers at any given time.
Volunteer will be allocated to a room with the same gender volunteers.
The private room has 1 queen and 2 single beds. Couples and families will get priority.
See our Accommodations Photo Album
Example Occupancy: There are usually two rooms with 2-3 people in them, and one room with a couple staying in it.
Payments
It is best to pay in cash while here. Payments and donations may also be transferred by bank.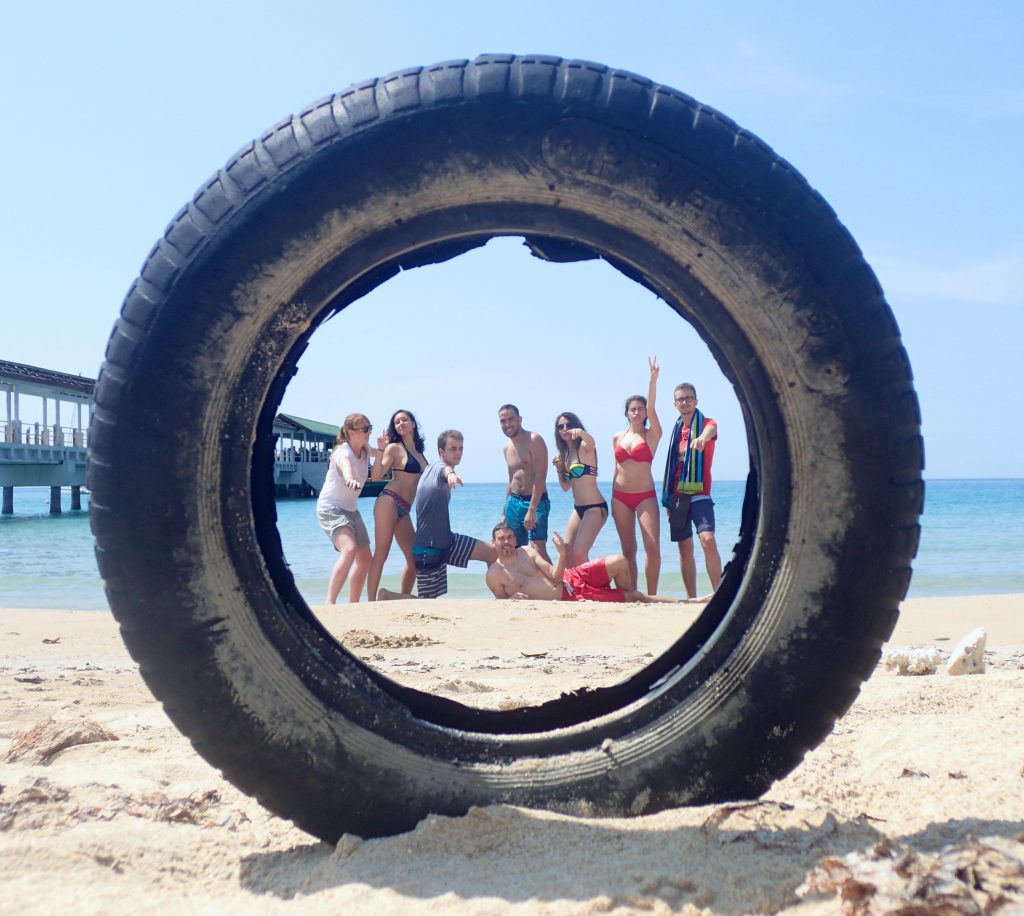 More Info:
Read a travel blog by some of our 2012 Interns, Brian & Ali. www.tiomantime.blogspot.com
Read volunteer blogs at:
blogspot.sg/2010 -new-years-at-juara-turtle
architectureoftravel.wordpress.com/2012  juara-turtle-project
jacomijns.blogspot.com/2014/03/volunteering-at-juara-turtle-project.html
Visit our listing at Hostelz.com or HostelWorld.com or Hostels.com
Visit our listing at GoAbroad.com volunteer programs
See our Photo Gallery on FaceBook
See a long-term volunteer's photography blog  The Photorialist
Tioman has an ATM, clinic, airport, and small shops.
Contact us for more information
Around November of each year, we start to screen for experienced interns to fill positions such as hatchery manager, volunteer coordinator, gardener, semi-skilled laborer.  This is for the whole nesting season (March until November, 9 months).  We need people that can stay for over 4 months at least, hopefully 6.  Please email us if you interested.