Through a desire to learn more about our sea turtles habitat and an ever growing understanding of climate change impact, we here at JTP are driving a new project to greater monitor and assess the coral reef here in Juara Bay.
Having been visited by Stefan Peters (Senior Lecturer in GIS – Global Information Services, at University of Technology, Malaysia), we were fortunate enough to have him share his expertise on digital mapping. Stefan volunteered with us here at JTP in April 2015 and could not wait to come back to guide us through this exciting new project.
Stefan returned earlier this month and spent three intensive days teaching staff members how to use digital mapping software. He downloaded and brought with him an abundance of satellite images and official government mapping data that we would not ordinarily have access to. During his short stay we managed to come up with two separate methods of accurately measuring coral reef areas in Juara Bay.
The next step is the fun part…we will sea kayak out to the reef to snorkel and make observations while taking underwater pictures. We will collect GPS data from different key locations and collate this into the mapping software.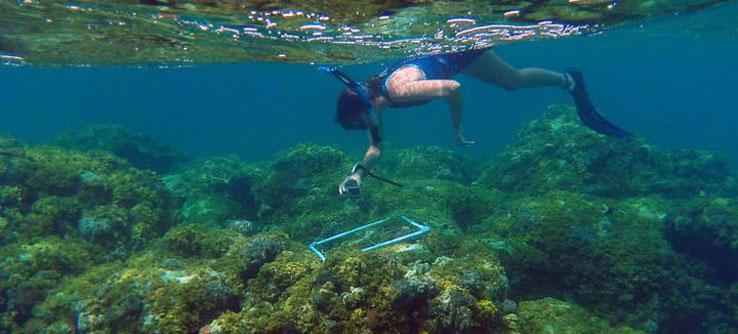 Over the coming months we plan to create an interactive database where any new information brought ashore by someone out snorkeling in the bay can be easily added to the map, this information will grow and eventually paint a realistic picture about the overall health and vitality of the coral reef areas. Eventually the goal will be to identify all manner of coral and associated wildlife in these areas down to species level, and monitor them over a period of many years, charting their growth and reproductive cycles. By having it on a digital mapping format we should also be able to display the information on charts and maps in our education center as hard-copies so the general public can have access to this type of information.
Has this inspired you or peaked your interest? We are looking for volunteers who have experience in underwater photography (perhaps with a high quality camera), skills with GIS, knowledge on coal species and methods of identification. If this sounds like you, please hit the link to our volunteering web page and drop us an e-mail.