In the afternoon on the 5th of April, JTP was informed by local's in Kg Paya that an injured adult green sea turtle had been spotted in the same area for 3 consecutive days. JTP immediately organised rescue equipment and a boat was kindly offered by Riverview / Little Planet.
Two members of staff and JTP founder John Amos set on their way to assess the situation. We arrived in Paya to pick up the local guys and they took us up the river to find the turtle. It didn't take long to spot her, she was deep along the river , an unsuitable habitat for a sea turtle.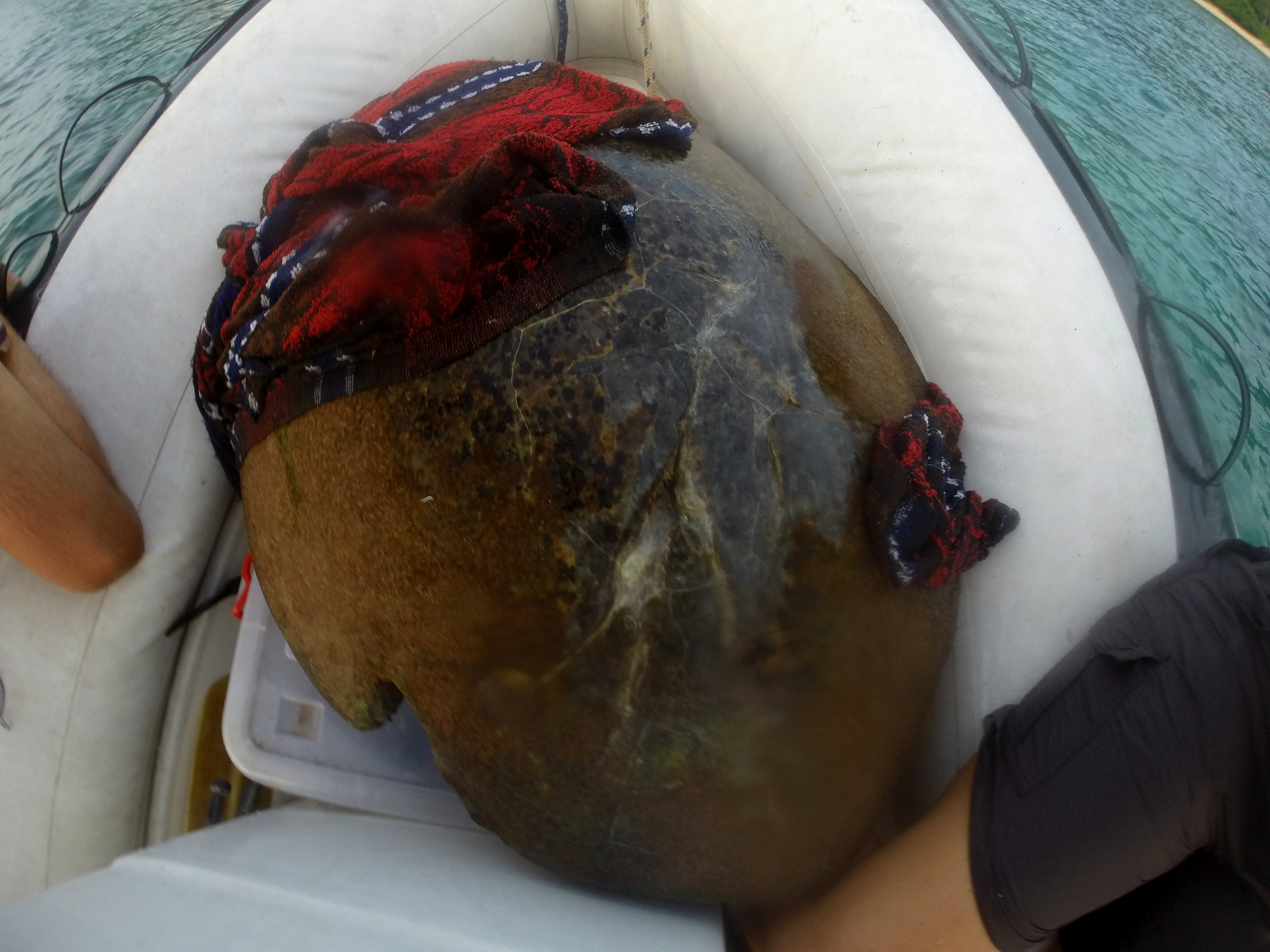 John got out of the boat to get a closer look, what he saw was a full grown female green turtle with extensive shell damaged from a boat propeller. She was very inactive and wasn't able to move her hind flippers. She also had buoyancy issues which meant she couldn't dive down to get food or avoid dangers.
If she was left in the river she would of only lasted a few more days. It took 8 people to get the large mother on to our boat meanwhile JTP staff and volunteers back at the project started preparing for her arrival. Luckily we filled Jo's tank a few days earlier so we would have somewhere safe for her to recover.
Marine biologist and JTP manager, Izzati, cleaned and medicated her wounds before we left her for the night to adjust to her new temporary surroundings. For the next few days we tried to get her to eat, we collected sea grass and fish but unfortunately she wasn't interested. She was still unable to dive or move her hind flippers and spent most of the day floating around on the surface clearly traumatized by her injuries and from her encounter with the boat propeller.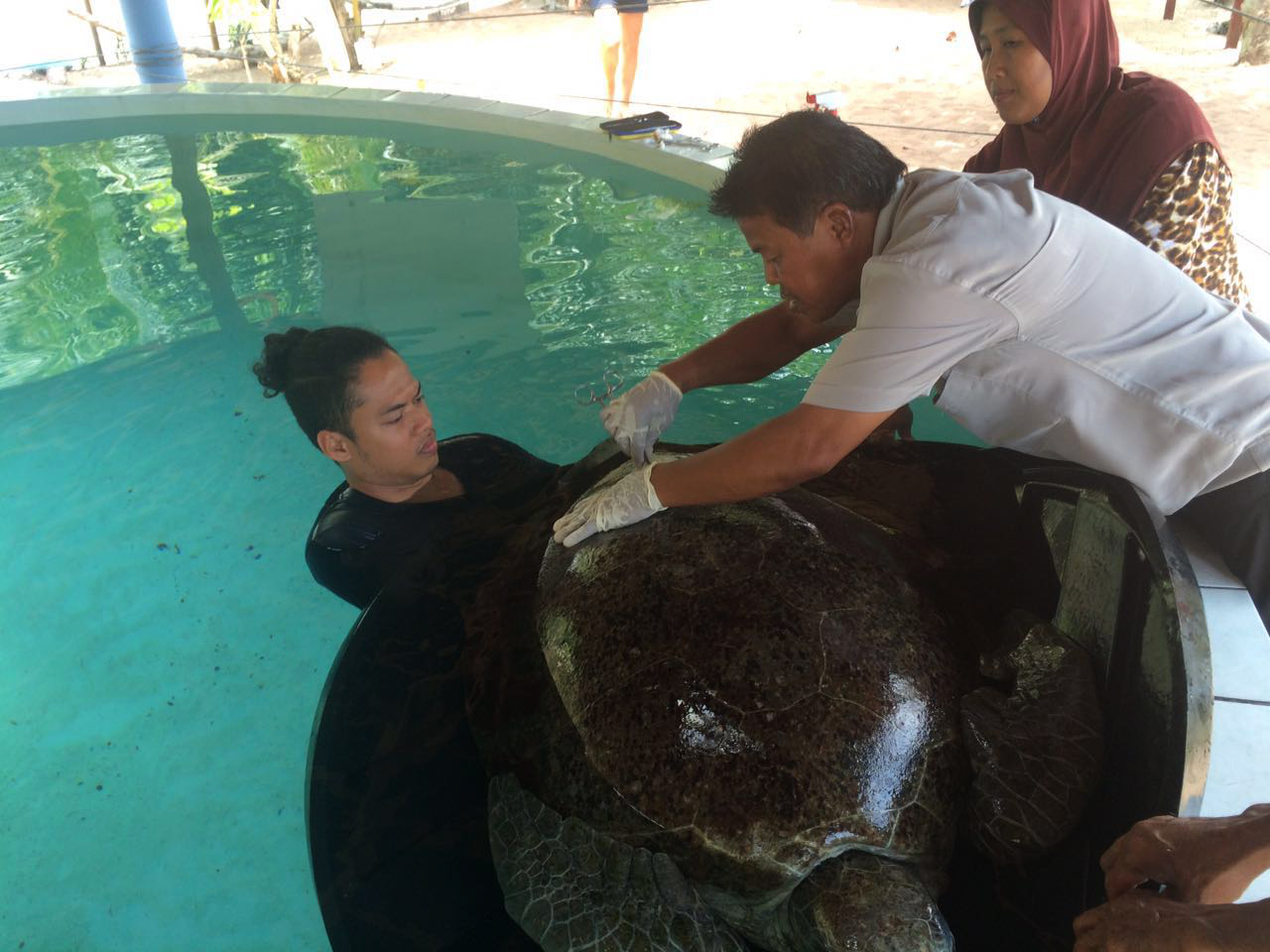 The local vet came to see her on the 11th of April and he injected her with antibiotics and cleaned her wounds. She still wasn't eating which was a major concern for us, but we saw a little bit of movement in her flippers.
We contacted a couple of sea turtle biologists who gave us great advice about the best rehabilitation methods. We were told that he had seen many cases like this and in most instances when the shell heals over, the buoyancy issues normally right themselves. However, there was also a possibility that she could be suffering from infections or internal damage which could only be seen by an x ray.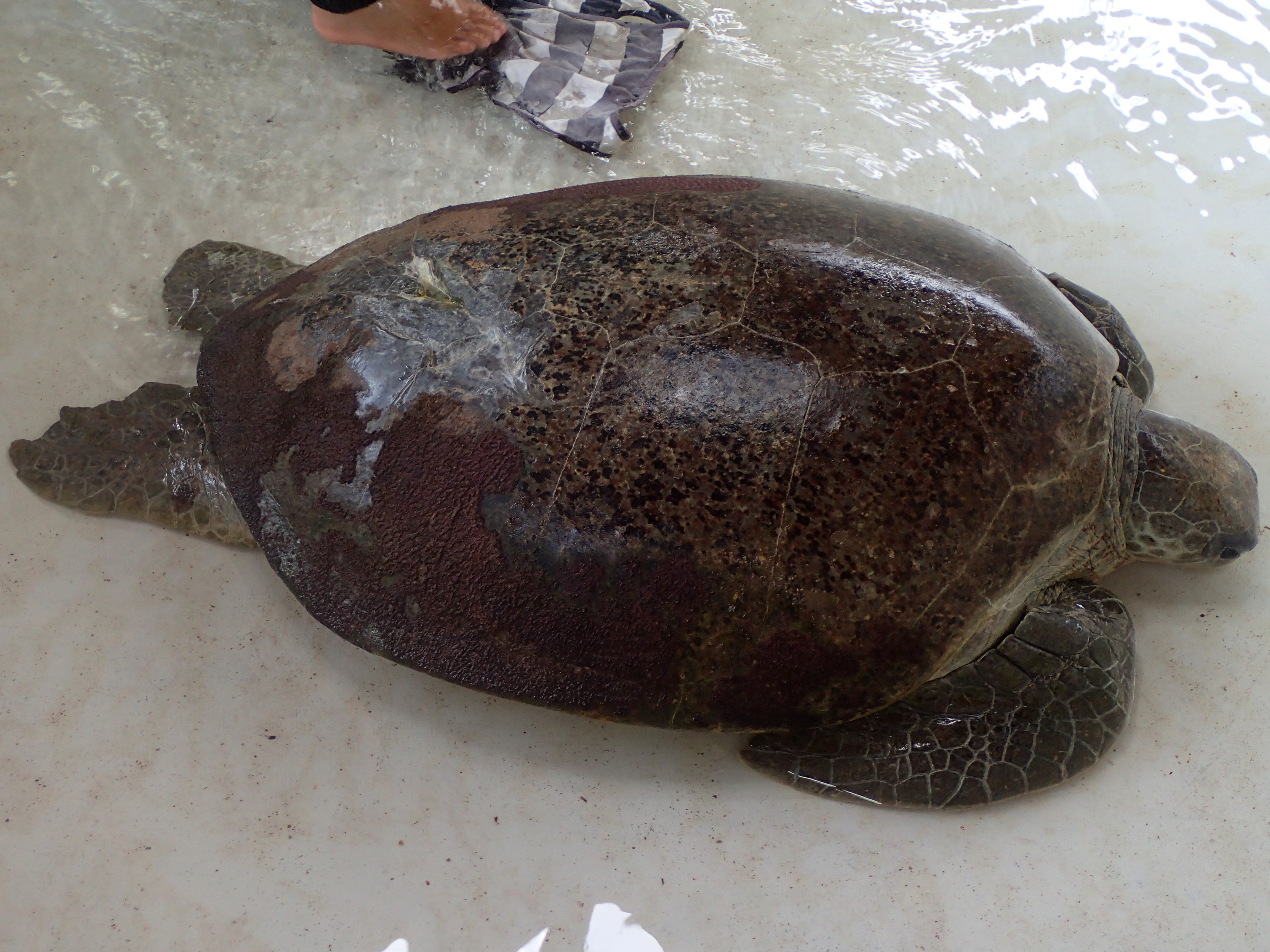 The next day, the 12th was a great day here at JTP……she finally started eating! And oh boy was she hungry. She managed to work her way through a large amount of sea grass. Things were looking up for this beautiful turtle. That night she even started moving her hind flippers and attempting to dive more frequently. Unfortunately her bum resurfaced with every attempt.
She was getting stronger everyday and her appetite was very healthy. We kept cleaning and medicating her wounds. Her recovery seemed to be going well but sadly on the morning of the 23rd, she was found submerged on the bottom of the tank. JTP staff carefully climbed into the tank to see if she was just sleeping but regrettably she had passed away.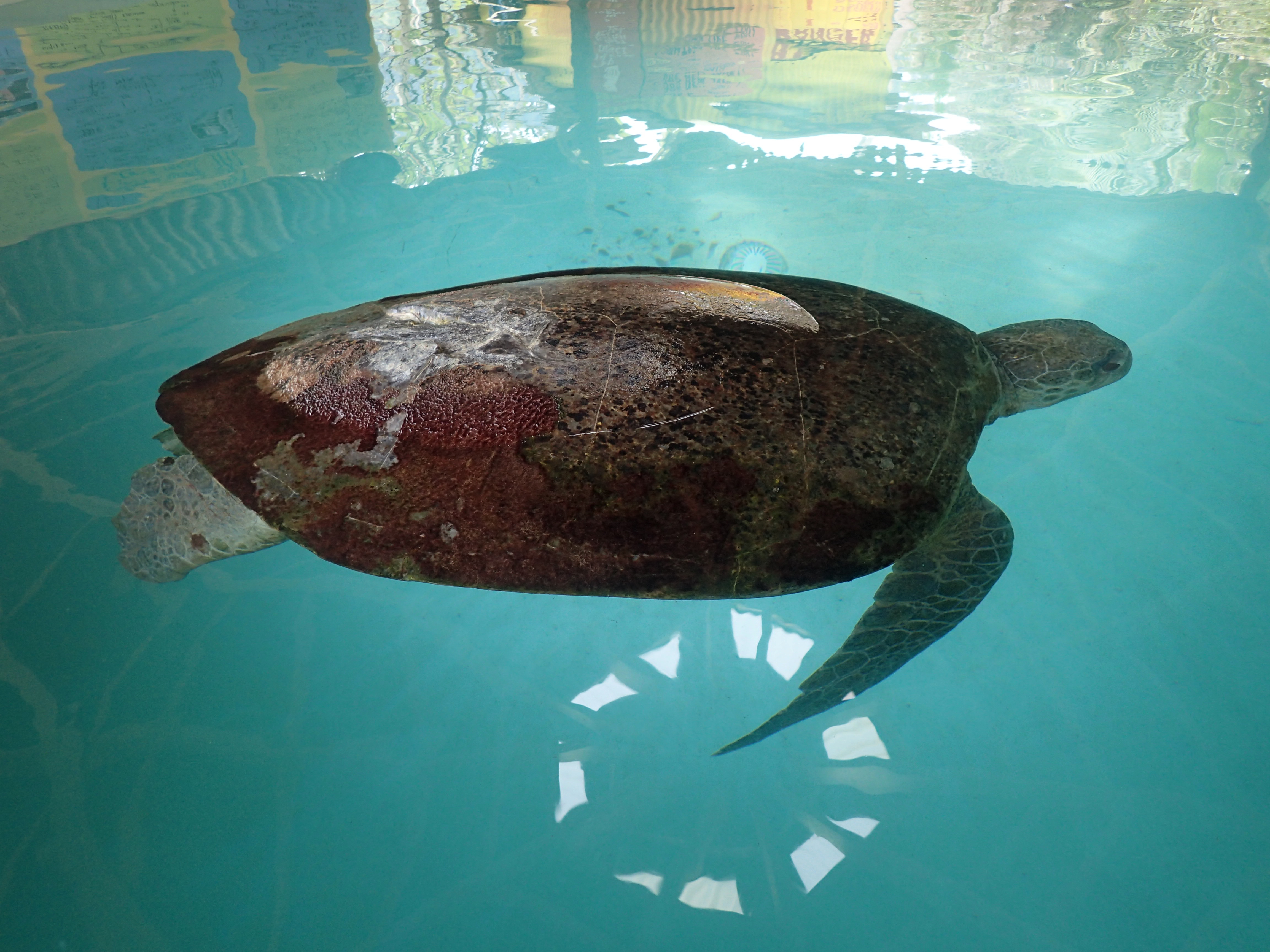 Our in house marine biologist preformed an autopsy on her and once inside we could see the extensive damage on her spine. Although we tried our best to help her, her death was unavoidable.
Although there was no happy ending to this story for our poor injured sea turtle, we here at Juara Turtle Project appreciate that we made this magnificent creatures last few weeks of life as comfortable and free from predators as we we could. She could at least sleep easy and eat some delicious sea grass.